There are a fair few trials in the original incarnation of Star Trek, but it is in The Next Generation that we really get legal. It kicks off with a trial (camply omnipotent villain Q puts on a trial of humanity, dressed up as a rather Civil Law looking judge),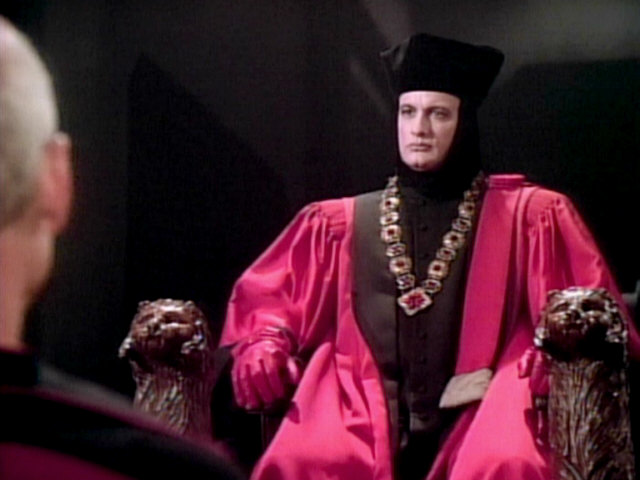 https://larryprevost.com/wp-content/uploads/2017/07/star-trek-TNG-judge-q1.jpg
and continues in a very law-focused way, before coming back to the idea of Q trying Picard as representative of humanity, in the very last episode – pronouncing that 'The trial never ends'. Captain Picard being rather more of a thinker than Captain Kirk, there is more scope for quite involved legal issues, and it is arguable that law and trials are major themes of TNG – even more so than poker and detective-fantasies, the tedious holodeck and Deanna Troi's expert jumpsuited counselling ('But what do you think?'; 'I think you know the answer to that' and similar insights). Anyway, I think there's enough of a pretext for a Star Trek post on here, so here are some of the legal and law-adjacent bits I found interesting. (There is also all sorts of slightly ponderous stuff about the Prime Directive, and treaties, but those don't float my space-boat to the same extent).
Crime, trial  and punishment
Q's trials of humanity are, to say the least, questionable in terms of the vagueness of the charges ('being a grievously savage race'…) and the procedure. They are far from the only 'criminal' cases in TNG. These also jumped out at me as interesting.
1:8 features the hapless Wesley Crusher in danger of being put to death by lethal injection for a trivial infringement of a law he didn't know about on a planet of irritatingly physically perfect dimwits. Cue some argument about the Prime Directive and the nature of law. Bad knitwear fans everywhere can breathe a sigh of relief – Crusher lives to wear terrible jumpers another day. And let's not mention the quilted waistcoat monstrosity of 7:20 – nearly as 'criminal' as the faux-Scots accents and geography featured in 7:14).
3:14 has a long drawn out trial to determine whether Riker can resist extradition to Tanuga IV to face charges of murder and perhaps attempted rape, under a system which presumes a person guilty until proven innocent (obv. Prime Directive would mean he'd have to be tried in that way if he was extradited). There is much on hearsay evidence and its acceptability (fine as far as the Tanugans are concerned, not as the Federation sees it), and a reconstruction is important in exonerating Riker.
3:17 has a lot of content involving Klingon law and customs. Lt Worf's father is falsely accused of treason – of having betrayed a Klingon colony to the Romulans (they of the shoulder pads, Mary Quant hairdos, Warbirds and cloaking devices). He is dead, but this doesn't matter much, as a finding can still be made, and it will stain the name of the whole Mogh family, including Worf and his brother. The Klingons are clearly very cool (best boots in space, and those groovy sashes .. ) and their legal procedure involves challenges and battle. We don't get all the way through a case, sadly, as Worf nobly accepts disgrace, despite his father's innocence, for the good of the Klingon empire, set to be blown apart if the truth emerges (that the actual traitor was somebody very powerful). 4:7 has more Klingon law – Lt Worf exercises the right of vengeance, challenging the killer of his mate, and killing him. Bit of an echo of the medieval appeal perhaps? Starfleet, of course, is not pleased, but Worf is entirely justified under Klingon law.
4:21 has a trial of a medical officer, Simon Tarses, for sabotage. Tarses, though innocent of that, is part Romulan and has concealed this. It is used against him by a rather crazed prosecutor/investigator. We see that the Federation has a 'right to remain silent' so as not to self-incriminate, just like 20th/21st century Anglo-American systems, and Tarses uses this at one point.
4:22 has resonance in relation to suicide and euthanasia, depicting Kaelon II, a society with a custom of requiring suicide ('the Resolution') when a person reaches 60, so that they do not decline. There is a clash between the Prime Directive and the magnificent Lwaxana Troi (Daughter of the Fifth House, Holder of the Sacred Chalice of Rixx, Heir to the Holy Rings of Betazed) over whether to stop nice almost-sixty-year-old scientist Timicin from going back to his planet to kill himself in accordance with the custom. In the end, he goes back, and she rises to the occasion, to go and be with him at the end.
5:12 has a novel crime – rape by invading the mind – perpetrated on Counsellor Deanna Troi by Jev, a telepathic Ullian, who hijacks a memory of her and Riker, and intrudes himself into it. There is no justice here, however. Showing the limits of law?
5: 16 – more Klingons, more suicide. Worf is paralysed after a rather ignoble accident, and wants to kill himself, asking Riker to assist. The method to be used is (of course) both ritualised and bloody – a jagged dagger to the heart. A combination of hope of medical help and a wish not to desert his slightly troubled son Alexander turns him away from this decision. Interesting absolutist/relativist discussion of suicide and disability for Klingons by Riker and Picard.
Persons
Personhood v. property comes up in relation to Lt Commander Data (an android), in 2:9.  There is a highly charged court scene in which Capt. Picard has to argue what is apparently a novel point. Of course, he prevails, and Data is ruled not to be property (and so cannot be experimented on contrary to his will). Data also features in an interesting discussion in 6:9 'The Quality of Life' (20:20-22:30) about what life is. I am seriously thinking of using this in a forthcoming paper on the beginning of life in medieval law. That would cause amusing confusion in an audience of legal historians.
There are bits and pieces on sex and gender – and, while some of it is a bit more progressive than Kirk-era stories, there are some curious failures to imagine that things could change. On the prescient side, we have, e.g., 5:17 which introduces us to the J'naii, a people who have (almost entirely) evolved past the idea of sex/gender. One of them, Soren, falls for Riker, of course (he is, apparently, irresistible – just don't see it myself …) and comes out as 'really female'. There is a trial of a sort, ending with some sort of treatment which removes this aberrant feeling of sexedness, leaving Soren content and Riker sad (as he has fallen in love with her within half an hour's acquaintance – not saying the man's shallow, but …). On the 'aren't aliens backward about these things' front, we have the Ferengi, who apparently don't let their women do much, or, indeed wear clothes (1:5), and the Klingons seem mostly to favour men in public functions (though the women do get clothes). There are also arranged marriages –  as in the ill-fated union planned for everyone's favourite Betazoid/Human Wellness-Adviser-Before-Wellness-Was-A-Thing, Deanna Troi and some drippy doctor bloke 1:11, and in the story of the metamorph woman bred and trained as a peace-weaver in 5:21. (The former marriage does not work out, leaving Troi to have a complicated and wide-ranging love life, but the second goes ahead (non-interference and all that) despite the fact that the (hot) woman ends up 'bonding' with Picard, and will now have to spend her life with a deeply unattractive and unworthy politician). Curiously un-prescient (I hope), however, is the assumption that, in the 24th C,  somebody as high-powered and independent as Beverly Crusher would have taken the name of husband 1, and not only taken the name of husband 2, but kept it after a divorce (7:26).
Misc.
A couple of others worth mentioning …
We get legal again in 4:13 with an attempt to enforce a very old contract between a supposed deity/ demon, Ardra, and the people of a planet (Ventax II) she allegedly helped to sort their planet out, in return for a promise that the people's descendants would submit to serve her in a thousand years' time. Top legal strategy here from Data and Picard, using a Ventaxian precedent to demand arbitration. We then have an 'arbitration' which looks very much like a US style trial, complete with 'objection!' etc., and some pretty good arguments as to performance, but then goes off on a more sci-fi path with some flashy demonstrations of Ardra's powers, debunked when our heroes get control of her boxes of tricks. She is confounded and imprisoned as a fraud.
6:10 and 11 are the place to go for those who like a bit of international/intergalactic law. Picard is captured by the evil lumpy Nazi-ish Cardassians (yes, the name-similarity with the not-at-all-crass-and-charmless family of reality TV fame is quite funny – this is where excessive plastic surgery could lead) and tortured, but not without getting out an objection that this is contrary to the Seldonis Convention – sounds v like Geneva Convention (crossed with the Selden Society???). There is a bit of a legal issue though in terms of him possibly being a spy rather than a POW.
There is also a lot to think about in terms of colonisation: this is treated as almost entirely unproblematic, which is all very of its time, though generally what is being colonised (by the Federation at least) is uninhabited planets, and at least Picard seems to be very open-minded about what amounts to 'life' and should be left alone.
'The Trial Never Ends…'
But the show did. Now I have finished filling in the gaps of my viewing of both Original Star Trek and The Next Generation, and Netflix is pushing Deep Space Nine on me. I am not sure whether I am ready to 'boldly go' there yet. There seem to be a lot of episodes and I am not convinced it's worth the commitment. On the other hand, I do fancy Voyager, and may miss some important lore by not following things through .. maybe in Stardate 2021?
GS 12/12/2020